Everyone is talking about 'hygge' (pronounced hue-gah) – the Danish word for taking time out and making simple things feel special and it looks as though the once redundant piece of retro furniture - the drinks trolley - is poised to make a comeback.
These days the drinks trolley can double up as a chic side or hall table
Retailers stocking the comeback trolley include Oliver Bonas and John Lewis who now refer to it as a 'bar cart'.  Invented in the 1920s as a smart way to serve cocktails to house guests, the lifestyle friendly drinks trolley remained a hugely popular feature in British middle-class homes right through to the end of the seventies, when they suddenly fell out of fashion.
These days the drinks trolley can double up as a chic side or hall table, or be used for bathroom or kitchen storage when it's not needed for entertaining.  It can be taken outside in the summer and used to store condiments and crockery for a barbecue.  If you're very short on space and worry you still won't have room for one, look for a fold-up version, that can be neatly packed away in a cupboard or loft when not in use.
With prices ranging from several thousand pounds to around the £50 mark, you don't necessarily have to spend a fortune to get the glamorous retro bar cart look.  If you are on a tight budget, you can often pick up vintage drinks trolleys in charity shops or car boot sales for very little money.
The Danes are often considered the happiest people in the world, why?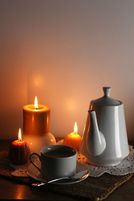 Hygge is as Danish as pork roast and cold beer.  In essence hygge means creating a nice, warm atmosphere and enjoying the good things in life with good people around you.  The warm glow of candlelight is hygge.  Friends and family – that's hygge too.  And let's not forget the eating and drinking – preferably sitting around the table for hours on end discussing the big and small things in life.
Perhaps the Danish idea of hygge explains why the beginning of Autumn is the perfect time to cosy up your home.  The Danish concept of hygge is keeping upbeat throughout the colder months to create a warm, friendly and comfortable ambiance in your home.  Wrap up warm in blankets, lounge on oversized cushions, light candles and invite friends & family round for cosy nights in.
Aarhus - Denmark's second city & European Capital of Culture 2017
The tourist board for Aarhus declares " Come to Aarhus and hunt for 'hygge' in Denmark's cosiest city!"
Aarhus is one of Europe's rising second cities and the New York Times and The Daily Telegraph have included it on their lists of must-visit destinations.
Aarhus - along with the Central Denmark region - has been appointed European Capital of Culture 2017.  You can expect an abundance of cultural events, gastronomic delights and an all round vibrant atmosphere!  With its mix of youthful energy and blasts from the past, Aarhus is truly a city with an energetic beat of the pulse.  Like to cycle? the beach, harbour and forest are all within reach of a 15-minute bike ride.
Hygge feeling in ceramics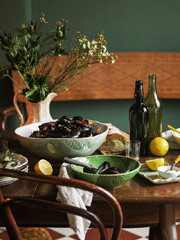 Designers Susanna Theander and Helena Åkesson-Liedberg from Sthål have a passion for food and good company. They were always searching for dishes and bowls with colours, shapes and patterns that stood out from the ordinary -  tableware that would do the food visual justice and create the right atmosphere – 'hygge'.
As working with ceramics was a hobby for both of them, they decided to create exactly what they were looking for.  The result is bohemian everyday ceramics that brighten up any day of the week.
Their first collection, Arabesque, cleverly combines both Swedish and exotic influences.  Finding inspiration in oriental pattern and ornament the range of bowls, plates and platters is available in a selection of Scandi-influenced hues and has been designed to mix and match with old and new favourites.