Wool dates back to before history was recorded, when humans discovered that sheepskin would keep them warm when the weather was cold and cool when it was hot and t would absorb moisture without feeling wet.  It would be difficult to duplicate a fibre with the qualities but man can and has refined and improved wool.  He has done so by selective breeding of sheep and by incorporating in wool fabrics such qualities as shrink resistance, durable creasing and pleating, moth-proofing, shower-proofing and stain-proofing.
Campaigns for Wool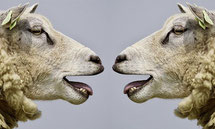 The Campaign for Wool is a global endeavour initiated by its patron, His Royal Highness The Prince of Wales, to raise awareness amongst consumers about the unique natural benefits offered by wool; and to call attention to the ecological advantages that wool delivers. 
The Campaign for Wool officially began in October 2010 with a launch event that saw London's historic tailoring street Savile Row transformed into a pasture upon which fifty sheep grazed. Over 100 companies participated in Wool Week and thousands of consumers took part in activities such as knitting and felting. Yellow sheep were even spotted queuing outside Selfridges department store on Oxford Street.
2011 saw the launch of Wool Modern, an exhibition opened by His Royal Highness the Prince of Wales, showcasing the very best in fashion and design in wool. Wool Modern featured the work of seminal designers such as Yves Saint Laurent, Alexander McQueen and Vivienne Westwood.
The Campaign for Wool was also introduced to key international markets in Australia, Spain, Netherlands, Germany, Norway and Japan.
In October 2012, the Campaign launched Wool School, its first major educational initiative. 12 top retailers including Topshop, Hobbs and Jigsaw joined forces with design students at leading universities in order to create a series of wool sweaters which were sold in stores. 5% of profits have been put back into educating the next generation of designers about the benefits of using wool.
UK Wool Week 2016 10th - 16th October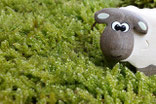 With their friendly white faces and distinctive dark woolly fleece, the native Herdwick sheep are a familiar and comforting sight on the stunning fells of England's Lake District.
The Herdwick Sheep Breeders Association mission is to encourage the breeding of Herdwick sheep, and the maintenance of purity, the constitution and character of the breed for survival in the harsh conditions of the high fells.
Their vision is to support the cultural and socio economic systems that have developed over hundreds of years which have helped to define the unique characteristics of the environment of the Lake District.
Lakeland Herdwick sheep were first recognised as a breed in the 1790s and are now bred on 120 hill farms in the central and western Lake District. A bid for Protected Designation of Origin status was made by the Herdwick Sheep Breeders' Association and was granted in 2013 putting it in the same category as Champagne, Cornish pasties and Melton Mowbray pies. Meat from the estimated 50,000 animals can now only be classed as Lakeland Herdwick if they are born, reared and slaughtered at one of three registered abattoirs in Cumbria.
Herdwicks, which often graze at heights of about 3,000ft (915 metres), are recognised as one of the hardiest British sheep breeds. The distinctive tasting meat was sampled by the Queen at her 1953 Coronation banquet. They were a favourite of Peter Rabbit creator Beatrix Potter, who kept her own herds.
Why Wool?
No other material, natural or man-made, has all its qualities. 
This is a brief list of its great qualities to learn more visit the Campaign for Wool website link below: 
NATURAL

RENEWABLE

BIODEGRADABLE

NATURAL INSULATOR

BREATHEABLE

RESILIENT & ELASTIC

MULTI-CLIMATIC/ TRANS-SEASONAL

EASY CARE

ODOUR RESISTANT 

 A SAFE SOLUTION - It is not known to cause allergies and does not promote the growth of bacteria

 
A sheperd's story @herdyshepard1
James Rebanks is a shepherd who lives and works in the eastern Lake District, in the same valleys and fells that his family has farmed for over 600 years.  As @herdyshepherd1 he tweets about his farm and his flock's daily life, and has over 60,000 followers.
He is the author of THE SHEPHERD'S LIFE, a Sunday Times #1 bestseller, described in the Independent as "an unforgettable book, one that raises important questions.  It is also one of the most truthful depictions of contemporary rural life that I have read".
Helping Herdy and amazing use of wool
Wool has been a theme to many of our clients' products - from homewares & lifestyle company Herdy to Janie Knitted Textiles who has produced an amazing range of wool lampshades.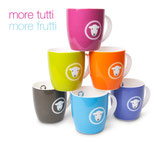 The Herdy company actively supports the Herdwick Sheep Breeders Association, their logo based on the Herdwick sheep is made to make you smile! - at Herdy they design everything themselves from their base in the Lake District.  Herdy aims to be socially responsible and create beautiful gifts and homeware of the highest quality and support the protection and promotion of the Herdwick breed of sheep.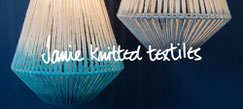 Using wool for lamshades may seem an odd combination, but we have been working with Jane Withers to help promote her unique range of lampshades made from wool.
Jane works with her partner Michael Hanmer and they produce products for interiors and fashion. With an emphasis on sustainability, wool has become their core material along with linen and cotton.
The work in their practice is a direct response too environmental colours, textures and the materials they use together with developing concepts and ideas challenging the conventional use of wool. In 2014 they developed a collection of lighting using knitted tubular fabric which is woven onto a metal frame. Wool is ideal for lighting as it is naturally fire retardant and in the washing process a moth proofing has been added too. As well as lampshades they make a range of other interior / lifestyle products using merino and British wool from UK suppliershe of range shades have recently been taken up by Heal's lighting dept.