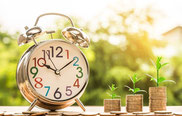 Autumn is fast approaching and with October 30th just around the corner (when we turn the clocks back an hour!), it's a good time to be thinking about lighting.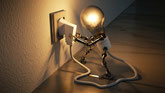 How we light our houses has changed immensely in recent years and the drive to be more energy efficient has brought a wealth of new products to the world of lighting.
Incandescent bulbs have been phased out in stages in the UK since 2009 but the old-fashioned light bulb could make a comeback thanks to a technological breakthrough that means they use less energy.  Many people preferred the warmer glow given by the incandescent bulbs, but 95% of the energy that goes into them gets turned into heat rather than light.  Their replacements – LED and fluorescent bulbs - whilst far more energy-efficient have proved unpopular because they give off a cold, unnatural light compared to their predecessors.  Researchers at the Massachusetts Institute of Technology in the US believe they have devised a method for incandescent bulbs to save energy - making them vastly more efficient.  The new models are expected to reach 40% efficiency compared to 5& efficiency for the original incandescent bulbs.  So watch out - your be-loved light bulbs could be back!
Lighting is a relatively simple and often inexpensive change that you can make to your interior decor that will have an instant impact on how the room looks.  As well as creating a focal point it can increase or decrease the vibrancy of colours,  altering the ambiance and affecting your comfort and mood.
Lighting is very much at the forefront of design at the moment and the materials used to make lamps and shades is immense. 
Here are just a few materials making amazing lighting that have caught our eye.
Glass
An obvious choice for lighting, but with developments in technology and designers pushing boundaries, glass provides a huge variety of innovative designs. 
Using glass, The Light Yard has a unique and creative collection of bespoke and hand-crafted lighting made by independent British and European designers and artisans. Their range of lighting features glass for use both indoors and out.
Wool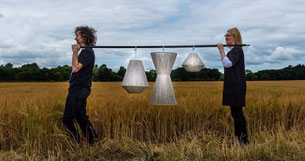 Janie Knitted Textiles makes lampshades in wool.  Developed originally for the Cambrian Wool Challenge, the retro-inspired Strand lighting is created using knitted tubular fabric which is then woven onto custom-made wire lampshade frames.
You can now see their work in a number of high profile restaurant interiors including the newly launched Wahaca in Brighton.  A dip-dye range has also recently been launched in Heal's Tottenham Court Road.
Watch how they are designed and made at https://vimeo.com/178493805
http://www.janieknittedtextiles.com/ Twitter @knittedjanie
Wood veneer

Suffolk-based Storm Furniture design and make a visually stunning range of home lighting and furniture products using eco-friendly wood veneer. All the products are 100% hand made to order in their Eco-Friendly workshop using a mix of modern and traditional techniques.
http://www.storm-furniture.co.uk/ Twitter @stormfurniture 
Flock

Cumbria-based MOS Furniture have taken a traditional material and given it a contemporary twist.  Their range of handmade wood lighting and home accessories features tactile neon flock edges giving them a pop art feel.
http://www.mosfurniture.co.uk/ Twitter @MOSfurniture