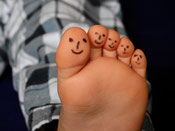 Health & beauty tips for happy feet!  Summer brings our hard-working feet out from under cover – but are they in good shape and looking their best?  Holistic skincare specialist Emma Colman and the College of Podiatry offer some helpful tips to treat your feet to some much needed TLC to keep them in top working order.
The Holistic Approach to Hard Skin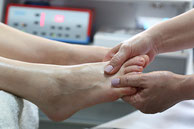 Emma Coleman, founder of natural skincare brand Inner-Soul, shares her tips on how to best care for your feet.  Emma says research has shown that aggressively removing hard skin from the foot can actually lead to an increase in its future build up.
Try these ideas for healthier, nourished tootsies from Emma and feel proud to bare your feet: 
• When using your body scrub take a little extra time to exfoliate your feet and make sure you scrub between the toes as bacteria likes to live here which can lead to fungal infections.
• Each evening in the palm of your hand mix some body or hand cream with any oil which you have available in the house – cooking oil is fine. You can also add a couple of drops of Tea Tree or Peppermint essential oil if you have some.  Massage well into all parts of the feet and leave exposed for a couple of hours.
• Feet can tell us much about our general health – dry skin long term could be a sign of chronic fatigue and flaky toe nails can be caused by calcium or Vitamin B deficiency.
• Ankles are more susceptible to swelling up in the summer heat and after flights.  Rotation and massage to the lower legs and feet using a stimulating body oil will help reduce the fluid retention as will elevating the feet to hip level whenever possible. 
Top toe nail tip:
Whenever you can remove your nail varnish and allow the toenails to breathe for a few days.
10 tips from the College of Podiatry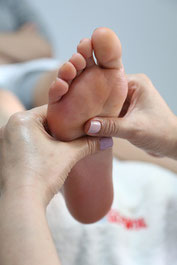 Research from The College of Podiatry shows that nine in ten of us experience some sort of foot problem, with one in five admitting to suffering with foot pain often or constantly.
Here are some tips to help keep your feet in tip top condition:
Wash your feet often
Keep your feet clean by washing them every day in warm soapy water, but don't soak them, as this might destroy your skin's natural oils.
Dry your feet well
Dry your feet thoroughly after washing them, especially between the toes which is where fungal infections such as athlete's foot can develop.
Moisturise and file
If your skin is dry, apply moisturising cream all over the foot, except for between the toes.  Gently remove hard skin and calluses with a pumice stone or foot file – don't overdo it though or skin will grow back harder than ever.
Cut toenails carefully
Trim your toenails regularly using proper nail clippers.  Cut straight across, never at an angle or down the edges. This can cause ingrown toenails.
Shoe shop in the afternoon
Shop for shoes in the afternoon.  Your feet swell as the day goes on and if shoes fit in the afternoon when your feet are at their largest, you can be assured they will always be comfortable.
Footwear tips for work
If you have to wear heels at work, wear comfortable shoes to and from the office and only wear your smart shoes once you're in the office.  Also, try to vary the heel height, between low, medium and high.
Limit time wearing high heels
Be shoe savvy.  Wear high heels and pointed shoes for special occasions only, and always wear the right shoes for the job (so no sandals for mountain climbing!). 
Change your socks often to avoid foot odour
Change your socks daily to keep your feet fresh. 
Dirty socks can cause smelly feet.
Watch out for foot bugs in communal changing areas
Wear flip-flops to avoid catching athlete's foot and verrucas when you use public areas such as gym showers, swimming pools or hotel bathrooms. 
Take care with flip flops
You can't wear flip-flops all the time.  They don't provide support for your feet and can give you arch and heel pain if you wear them too much.
Try some Peppermint!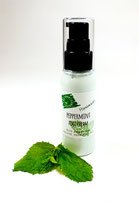 The perfect pick-me-up to help revive tired tootsies!
The Soap Kitchen's multi-tasking Peppermint Foot Cream will give your hard-working feet some much needed TLC - to both revive & refresh and to nourish & nurture.
This light, soothing & cooling foot cream is richly moisturising and contains natural peppermint oil to help stimulate the circulation. Made with a base of sunflower oil and cold pressed borage seed oil (starflower oil) which is extremely rich in gamma-linolenic acid (an essential fatty acid) also known as Vitamin F making it ideal to get your feet flip-flop ready. It's also suitable for use on the hands and body and is MIT and paraben-free.