Norfolk is certainly open for business - from a new caramel vodka to a jewellery business owned by two Norwich sisters and a graphic design-led lifestyle brand there's a wealth of creative talent launching innovative products that are putting the county well and truly on the design map!
Strike gold in Norwich with new caramel vodka made with local ingredients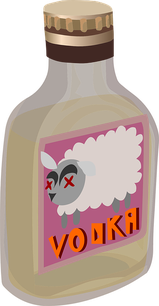 One of the key flavours and ingredients to have created a buzz in the last five years is caramel.  Brainchild of Matt and Steph Brown the Norfolk business that's recently hopped onto the caramel train is Nelson's Gold, a decadent new flavoured premium vodka and sister to their original Wild Knight English Vodka.
Having tried a number of different ingredients they settled on Norfolk-grown barley as the best as it produces a completely different flavour compared to the traditional potato-based vodkas.  Made in small batches, Nelson's Gold takes the smooth, eminently sippable qualities of the original vodka up a notch with the addition of caramelised Norfolk sugar beet resulting in a flavour that is incomparable to the many other caramel vodkas on the market.
Steph and Matt, who both have backgrounds in marketing and design, created a non-alcoholic drink in 2010.
 "Matt went away to Mongolia because my brother-in-law was getting married to a Mongolian lady," says Steph. "In Mongolia they drink a lot of vodka and he came back and said, "I tell you what Steph, why don't we make vodka instead?"
When it came to branding their drinks, Matt and Steph wanted to connect the vodkas to their British and Norfolk heritage.  Wild Knight relates to both the knights of the realm of old, and to 'wild nights'.  But they dug a little deeper to christen their caramel vodka. Nelson's Gold is named after the original ship, HMS Victory, which was the inspiration for Nelson's Victory and of course the tiny Norfolk village of Burnham Thorpe is the birthplace of Horatio Nelson.
Don't be surprised if you see Wild Knight and Nelson's Gold on your travels across the UK or worldwide in the near future!
Norwich sisters' jewellery business becomes a £1m sparkling success
In late 2012, sisters Jenny and Sophie Laslett used some borrowed money a spare room and bought a small batch of jewellery from a manufacturer in the Far East.  Their only customers for the first Christmas of trading were friends and family.
Today the pair are sitting at the head of a successful digital business, selling more than £1m of jewellery online each year and employing ten people.  Working all hours of the day, driving sales through online marketplace Not On The High Street and a particularly successful necklace design have helped the sisters achieve their dream business, J&S Jewellery.  So far they have sold more than 125,000 pieces of jewellery and are now looking to grow their brand using their own website.
Jewellery designer Jenny previously worked for top-level clients including Marks & Spencer and Sophie worked as a photographer at The Times.  They  didn't expect their business to progress quite so quickly but opened their first dispatch office in Earlham House Norwich in 2014 and have since expanded into a second office, so things are still going incredibly well for these two entrepreneurial Norfolk sisters.
Norwich-based minimalist children's clothing brand Nor-Folk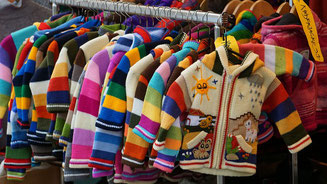 Nor-Folk began in November 2014 when founding couple Fiona and Bobby Burrage - who also run branding agency The Click Design Consultants - created the Nor-Folk logo for another project which did not go ahead.
Hoping to make some use out of the design, they printed the logo onto a collection of tote bags, which they sold on the online site Etsy.
Following on from the surprising sales on Etsy and while searching for simple clothes for their three-year-old the brand idea began to take off and they started to produce some designs of their own.  From there they shared some photo-shopped visuals to see if stockists would be interested in them.
Within a couple of weeks eight stockists were on board and orders of about £8,000 had been secured - enough to start production of their first collection of t-shirts.  Nor-Folk now sells thousands of items of children's and adults' clothing, gifts and homewares each month and turnover is well into six figures.  The couple saw growth of more than 30pc for several months in a row and distribution has moved from a series of boxes in the living room of their converted-factory apartment to a warehouse in Long Stratton Norfolk where the picking and shipping is out-sourced.
The Burrages have grown their business by sharing a polished version of their life on social media and developing a community of followers.  In an interview with local paper the EDP Bobby said "A lot of people have no idea Norfolk is even a place when they buy our stuff.  We would love to be able to push the county more." 
Despite Norfolk not being on the map for many, Nor-Folk's popularity has led to collaborations with other brands - they have teamed up with Japanese business Tokyobike to design a children's bicycle, and Fiona has been asked to work with women's clothing brand Long Tall Sally.