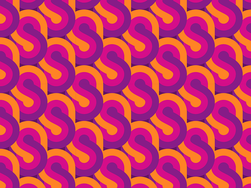 Designing the interior of your home can be great fun and theses days with so many themes and ideas to choose from the possibilities are endless.  Venturing into 'Retro' by carefully mixing and matching from different eras can work well and result in a very unique look.
Retro-style decorating encompasses several decades and covers any interiors theme that is influenced by trends and styles from the past.  It's most used to describe decor from mid-20th Century onwards - so that's the 1950s, 60s and 70s and even, dare we say, the 80s!  
Pop Art to the Space age
In the 1950s, furniture was sleek and bold.  The American diner-style was making its influence felt and featured chrome bar stools and Formica covered tables.
Pop art was also starting to influence the design world and ironing boards, sofa beds and drinks trolleys were all invented during this period.
Scandinavian styling was influencing furniture designs during the 1950s and 1960s with the Danish style teak sideboard being an
extremely popular piece in the household. The 1960s saw experiments with new materials with curves and shiny surfaces becoming prominent features as the 'space age' started to influence furniture designs too. 
Plates can add a bit of retro to your dining table and from the 70's a classic Mancer coffee pot makes a great statement to retro.
Colour
Retro feel
A quick and easy way to achieve a retro look is to use paint colours of the time.  Avocado green was one of the most popular retro colours of choice, followed closely by mustard yellow and combinations of brown, black, white and red. Other favourites of the period were bright orange, green, indigo blue, and yellow.  Often these colours could be used as a mix for bright table tops coverings etc.  Take a look through interior design pics of the decade you're interested in to see what colour combinations were used. 
If you are looking for a particular paint colour then Lakeland Paint can mix it for you with the added benefits of their eco-friendly formulas which are environmentally safe, have no nasty paint smells and they claim it's 'Baby-safe even if chewed & eaten'.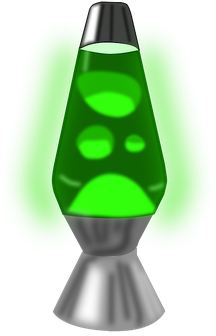 Carefully chosen classic accessories can also add an instant retro touch to your interior - the iconic Lava Lamp embodies all that the 1960s had to offer and is still produced today by Mathmos. 
Lighting was also defined by square and tasselled lampshades and standard lamps were very popular at the time, often made in wood or chrome, with big shades standing in the corner of most living rooms.  Janie Knitted Textiles has a range of retro-inspired lampshades with bold geometric shapes that would work well to update an original standard lamp base.
TIPS TO GIVE YOUR HOME A RETRO-MODERN FLAVOUR!
1. Proceed with caution.
Start by adding some small vintage details such as retro posters, paintings etc.  Add some accessories like a stool, a lamp or some cushions. If you're happy with the result then consider some more permanent items such as furniture, wallpaper or tiles.
2. Where to go vintage shopping?
The best place to start is garage sales, flea markets, charity shops where you can often find great bargains.  If your budget allows, then consider antique shops, specialist shops and websites that sell retro products - be sure to check whether these are original or reproductions.  And of course, don't forget the grandparents'  (or parents depending on your age!) loft - this can prove to be a real treasure trove!
3. A retro house, not a museum.
How you eventually want your house is your choice but it's all about finding the right balance.  Some people like to mix styles and eras and this can be good if you can't afford to totally revamp your home.  Retro items can stand out better in a modern interior with straight, clean lines, than if in a room swamped with too many styles and details.
4. Patterns, colours, atmosphere
Teak furniture like G-Plan mixed with neutral colours and white can create a retro Scandinavian atmosphere.  Objects with a vintage style made from stainless steel, glass or wood can give the retro industrial decor flavour to your home.  Finally, colourful geometric patterns in cushions etc. and some kitsch furniture or a statement piece can add some fun to your retro decorating style.
Testing the water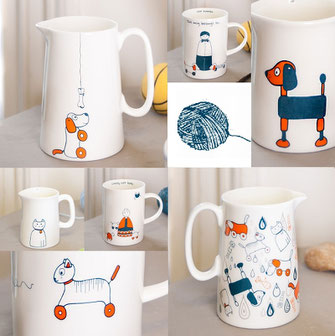 Before taking the plunge and decorating a whole room, take a look around at designers and makers who are producing products that are influenced by the period but are very much created with modern interiors in mind.
Helen Russell has recently launched her retro inspired ceramics range - Raining Cats & Dogs.
Quirkily illustrating the old adage 'It's raining cats and dogs', Helen has turned a dismal downpour into a cheery cascade of retro pull-along wooden toys that will brighten the dullest of days!
The new Raining Cats & Dogs collection of homewares includes mugs, jugs, coasters and even a tea towel to cheer up the chore of washing up!