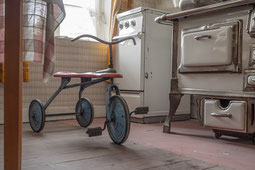 A hundred years ago the kitchen was a utilitarian space for cooking and little else - a lonely place to cook and do the washing.  Today it's often the social hub of the house.  Spacious, open plan spacious kitchens with a central island and seating have turned the space into a multipurpose room - for cooking, dining and living room all-in-one.  With the revolution in DIY and self assembly cabinets, designer kitchens have become more accessible to everyone and are a real statement of interior design. 
How we came to the modern kitchen
The Frankfurt kitchen was seen as a milestone in domestic architecture and considered the forerunner of modern fitted kitchens.  Margarete Schütte-Lihotzky was hired to plan the kitchen for a new housing development in Frankfurt.
After World War 1, Germany was experiencing a severe housing shortage and new apartment buildings were built to satisfy a need to provide housing for the middle-classes.  Margarete's efficient kitchen design measured approximately 6 ft x 11 ft and was designed with two goals,  optimize kitchen work to reduce cooking time and to lower the cost of building decently equipped kitchens.  The design was enormously successful and around 10,000 so-called Frankfurt kitchens were built in the late 1920s.  The Frankfurt Kitchen was not universally liked by its owners as the small single-task spaces isolated the person from the rest of their home and virtually precluded the possibility of any other family member being able to help in the kitchen.  Since those days we have seen kitchens become bigger and more multifunctional.
Appliances - Cookers to Microwave Ovens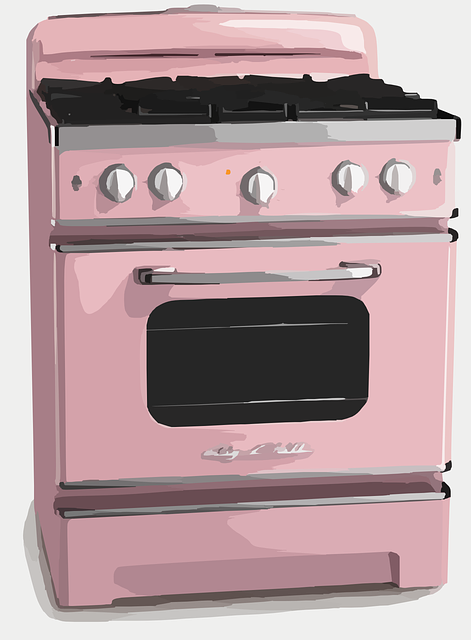 The way we cook has also come a long way. Up until the second half of the 20th Century, stoves were a hob and oven in one single unit, powered by gas or by the home's coal-fired plumbing system.  Often the oven was the main source of heating for the whole home.
Pre-1950s ovens had solid metal doors with heavy latches used in an attempt to keep the heat within the cooking chamber.  From the 1960s more effective insulating materials allowed for smaller, more manageable cookers and as the fitted kitchen became popular, the hob was increasingly placed away from the oven, allowing for a more practical and sociable cooking environment.
Today, for many, cooking is more of a hobby (or even a therapy) than a chore and the choice in cookers has become endless – conventional, convection (fan), steam, single or double, gas or electric, built-in or freestanding – with helpful features such as delayed timers, self-cleaning and childproofingoften allowing you to fit an enjoyable cooking experience around your busy day.
Microwave ovens first became available for home use in 1966, having been successfully used in hotels and restaurants. They were an instant success because they required no installation other than access to an electricity socket. However, the size and the price (in the region of £2,500 in today's money) resulted in poor adoption until technological advances in the early 1970s lowered the cost and reduced the size to the familiar countertop model.
Small appliances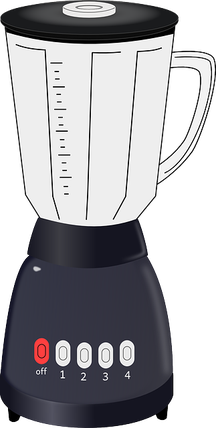 There has been an explosion of kitchen aids and gadgets in recent years including bread makers, Juicers specialist coffee makers.
Some of the most popular to have made their mark since the 1950's are...
Electric Kettle - 1955 Russell Hobbs introduced the first smart electric kettle which automatically cut off as soon as the water boiled
Toaster - originally invented back in 1893, by the 1950s, electric toasters were common and the technology had developed with automatic pop-up technology. 
Washing Machine
The 1960s saw the old mangle and washboard being replaced by automatic electric washing machines with spin cycles. Affordability of washing machines saw the rise of twin tub top-loader models with compartments for washing and drying.
Refrigerator
Another item no longer out of reach for many families during the first consumer electronics boom of the 1960s was the refrigerator.
1970s onwards
The Chip pan came out in force with the Teasmade losing its appeal. Other newcomers to the kitchen were the Soda Stream and Pressure Cooker which has enjoyed a revival in recent years.
The 1980s saw the multi-tasking Food processor and dishwasher becoming ever popular in the kitchen.
Kitchen table dining

Time to get out your best plastic!
In the 1950s and early 1960s melamine tableware looked like it might replace traditional ceramics in the dining room, as well as for picnics.  Made from Melamine Formaldehyde it was tough and the manufacturers claimed it was almost unbreakable.
Moulded into contemporary shapes it was bright and colourful - 'gay' to use a term from the era.  However, although claims for its durability were true, it was not totally indestructible and unfortunately, Melamine cups were stained by tea and coffee.
Although plastic tableware was initially expensive, and enjoyed a brief spell of being fashionable, it could never have the prestige of ceramics in the eyes of the public.  In the end it was always going to be mass produced and ended up being mainly being used for outdoor dining like picnics or used when camping or caravaning.
Ceramics to jazz up the table
The kitchen or dining room areas don't always need to be redecorated to feel fresh.  Simply updating the home decor accessories like pictures, tablecloths and tea towels and updating worn out crockery for the latest in bright and cheerful plate sets can jazz things up .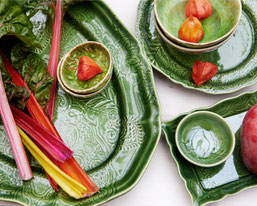 Add some Bohemian Scandi-style style to your table with Arabesque tableware from Sthål ceramics.
Combining both Swedish and Arabic influences the first Sthål collection, Arabesque, finds its inspiration in exotic pattern and ornament and is available in a selection of glazes designed to be mixed & matched allowing you to create the ultimate colourful canvas for your food.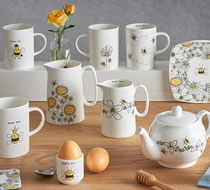 Artist and designer Helen Russell has created a wonderful world of charming characters that will make you smile everyday.  Blob Birds, Little Bean Critters and Puffin Cove Colony are some of the cute creatures that have found their way onto the range of ceramic tableware, kitchen textiles, illustrations and sculptures.
Flower Garden collection of tableware which includes mugs, jugs, a tea pot and egg cup features a scattering of stylised blooms through which fly busy characterful bees identified by their distinctive black and yellow livery.