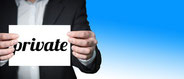 Indoors or outdoors, we like to create private spaces to relax, work or just be free from prying eyes! 
In this blog we look at a few design ideas of how you might start to think about that area or space that you would like to create a little privacy in.
Glass effect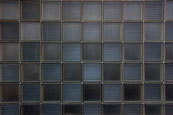 Tiles or fluted!
A fluted or tiled glass partition can separate areas such as the hallway from the staircase. The grooves add textural intrigue and privacy, obscuring the adjacent areas without completing obstructing them. Textured glass, such as fluted glass, is one of the most affordable ways to introduce a decorative privacy shield into your home. 
Go frosted!
For a little more privacy than fluted glass and also more shared light than you'd get from some alternative privacy solutions, frosted glass offers a good solution.  These tend to be a little more costly because they require a layer of transparent glass with a frosted effect sandblasted onto it.  Bedroom space can be made private by using the frosted glass sliding panels.
Coloured or stained glass?
Stained glass is a more colourful option to providing some privacy, but it can reduce light and is one of the more expensive options. A simple glass panel in the window can create some privacy in a room.
A more 21st century option can be coloured glass; this option may not provide the required level of privacy you need but can add an incredibly stylish look to your home.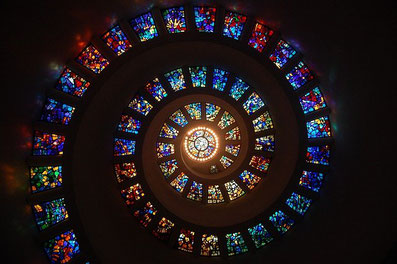 A good place to start your research for which glass you might use is one of the best know glass manufacturers in the UK, Pilkington. The inventors of the Float Process, by which most of the world's high quality glass is made, they have plenty of options for glass to inspire you. 
Window Films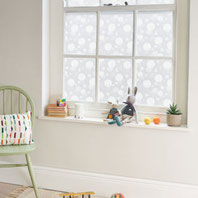 Window film looks and feels like etched or sandblasted glass and is the perfect way to let light into your home whilst stopping the neighbours spying on your every move!
The film comes in many designs and is made-to-measure by the Window Film Company. The design shown is one of many by creative designer Helen Russell and can be bought exclusively from the Window Film Company. 
Curtains & bookcases
Curtains are a good, cost effective alternative to provide some privacy and create separate areas within the home.
A floor-to-ceiling bookshelf can function as a room divider offering some privacy if open backed or alternatively with a backing they may offer the privacy required while also providing extra storage and display space.  With some imaginative thinking they can transform a room space at a reasonable cost.
Wood and artwork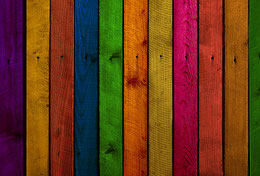 Wooden Slats
Simple wooden slats can partially section off the room into two areas and is a more open effect since you can see through the panels. 
Whether it be etched or stained glass, curtains, bookshelves or floating art there is a massive choice of suppliers. As well as off-the-shelf options, it's worth looking in to having something custom made - it's often not as pricey as you think - plus you'll be supporting an independent designer or maker.
A good place to look for some interesting ideas and designs is IKEA and from there you can research further for your ideal solution.