What's in a name?
I'm often asked "Why Howling Moon?" so here's an explanation...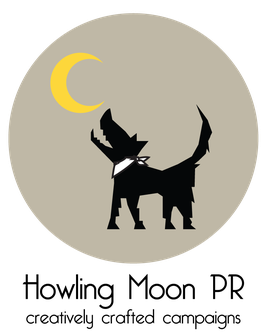 When setting up my own business I wanted a name that was that little bit different - something that was memorable with a bit of personality. 
So many PR companies are the founder's name or initials (and there already was an RMPR!) - add to that the problems of people spelling my first name correctly (who thought three letters could morph into so many variations!) and then don't even get me started on my surname!  
Whilst using your own name works for lots of businesses and brands I didn't feel it was the right thing for me - and I was also thinking I could continue to use Howling Moon if at some point in the future I decide on a change of business.  That all said, I did at one point consider Oi Soy Roy Boy! 
Looking through the directory of PRs, there are lots of 'fruits' and colours - particularly in the lifestyle PR sector - so I set out to come up with something a bit more unique. 
As I'm strangely drawn to the moon - particularly a full one which I find mesmerising (I had images of the full moon projected onto the backdrop of the catwalk for my degree collection presentation many moons ago) - I thought something suitably lunar might be fitting. 
This, coupled with a love of the canine species was followed by lots of scribbling down of words associated with talking, shouting, broadcasting, spreading the word etc.
After a few false starts and some pretending to answer the phone to see if the name sounded OK out loud, I decided on Howling Moon.
Brand name
When developing a brand, it's important to check that the name isn't already taken - often not a problem if you're using your own name - but even then, it's essential you do some research.  
A simple Google search should show you whether or not your monica is already in use.  You can also check with Business Names Registration - this is advisable in case anyone has registered the name but they're not currently using it as you don't want to get up and running and then find out someone objects.  It can be the case you can still use the name as long as it's not a conflict of interests i.e. same/similar business type.
When you try and register a domain name for your website, this will also flag up whether the name, or something similar, has been claimed.
Even large companies can get it wrong - I've worked with companies who've got as far as putting a brand or range into production only to find out that the name is being used elsewhere - resulting in a major headache for all concerned!
Luckily for me the only other Howling Moon I found was a camping supplies company in South Africa so not really a clash of interests!
Logo design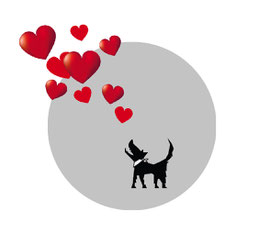 The first logo for Howling Moon PR was one I designed and created myself - the idea for the image came hand in hand with deciding on the name - I had a good idea of what I wanted and so drew it myself, scanned and photoshopped it and created a jpg.
The original served us well for a couple of years - proving to be a great talking point on business cards - but I realised it could do with a bit of refining so contacted a graphic designer I found on People Per Hour to come up with something new.
It's a common trap for small businesses to think that they can do everything and often they can take things to a certain point, but by using a professional in a certain field can help to 'push the boundaries' and provide altogether more interesting solutions.
The first logos that came back weren't quite what I was looking for - they were more suitable for the camping supplies company than mine and then I realised the one word I'd left out of the briefs was 'quirky'.   A search through some images also brought up some further examples of the type of thing I had in mind and the second set of designs were just what I was looking for! 
Commissioning creative work
If you're looking to brief someone to carry out some creative work for you then it's good to have some idea of what you're aiming for - take a look around and if it's a logo/graphics you need then pull together examples - they don't have to be in the same business area as you, just something that appeals - a bit like creating an interior design mood board.  It will give the designer some pointers to work from.
It's often the case that people know what they don't want but they don't really know what they do want.  Whilst it can be liberating to allow someone free rein to do whatever they want you may end up with their vision of your business rather than yours! 
So many times I've worked with people who weren't able to communicate what they wanted - and then ended up with something that they didn't want - wasting everyone's time and energy all round!
Ensuring you commission creatives correctly applies to photographers too - many of them like Richard Jackson of Forever Creative Photography now work 'remotely' and don't meet their clients face to face in the studio or on location.  It's vitally important that you discuss what you need for your brand.  Again, it's a good idea to collect together some examples of pictures and ideas or snap some rough mock-ups to give your photographer some visual refences to the type of images you're looking to achieve. 
Favourite finds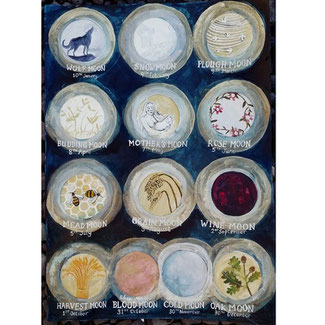 So, there's the background story to how Howling Moon PR got it's name and here's a few of our favourite finds from visits to trade shows and discoveries on the internet that fit with our theme!
Left: Moons illustration by Lizzie Spikes at Driftwood Designs
Below top row left to right: Twilight Moon rug by Nourison, Balloon Dog table lamps from Nordium, Wallpaper from Cocoon Home, Midnight Fox screenprint from Design Smith Studio
Below bottom row left to right: Dog + Beach print by Lucky Lobster Art, Moon inspired accessories by Temerity Jones, "Let's Go Walkeez" - Norwich University of the Arts, Doggy desk top storage at the London Stationery Show
We even happened upon an aptly named hostelry on one of our exploratory walks around London - you'll find it in Hoxton Street, N1