With ever increasing energy costs and concerns over the impact on the environment from fossil fuels and nuclear power, solar power generation has increased massively and its uses are amazing - from automatically opening a farm gate to providing power for an entire island.
Friday 26th May 2017 proved to be a landmark day for the UK as a record amount of solar power was generated.  As Britain basked in sunshine and temperatures of up to 28C, 8.7 gigawatts (GW) of electricity had been generated by lunchtime, representing 24.3% of total generation across the UK, the level tops the previous record of 8.48GW set on May 10th.
The amount of solar power added worldwide increased by some 50% last year because of increased capacity added largely by the US and China.  New solar photovoltaic capacity installed in 2016 reached more than 76 gigawatts, a dramatic increase on the 50GW installed the year before.  China and the US led the surge, with both countries almost doubling the amount of solar they added in 2015, according to data compiled by Europe's solar power trade body.
Globally there is now 305GW of solar power capacity, up from around 50GW in 2010 and virtually nothing at the turn of the millennium.
Let the sun power your Island
The island of Ta'u is located about 4,000 miles from the West Coast of the United States and has a population of around 600 residents.  A project funded by the American Samoa Economic Development Authority, the Environmental Protection Agency and the Department of Interior implemented a solar array project which is composed of 5,328 solar panels that can run the entire island on solar energy for three days.  The system can fully recharge with just seven hours of daylight.  The island previously relied entirely on diesel generators for its power.
Battery power for cars and communities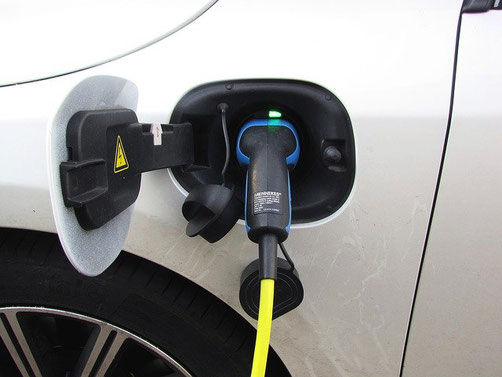 Renewable energy like solar is susceptible to peaks and troughs throughout the day but energy-storage systems such as the Powerwall by SolarCity combat the problem by effectively smoothing the output of these sources.  By storing energy at peak times and releasing it when it is needed , they make renewable energy a far more viable option.
Tesla, probably best known for its electric cars, is leading a revolution in the solar market with battery storage solutions.  Tesla's company SolarCity makes the Powerwall 2 home battery and has just launched in Australia.  The company is pretty confident that its new sustainable battery storage solutions could fix power blackouts experienced in South Australia which has been suffering from ongoing problems – with the latest one being last month with many people are blaming it on renewable energy sources.  Tesla recently installed an 80MWh grid-scale battery farm in southern California within just 90 days which they say shows they have the solution to South Australia's blackouts.
Solar Gates - remote gates for  automatic control or when there's no power around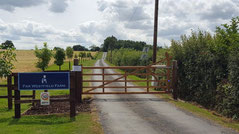 Solar Gate Gate Systems offers a great solution for powering an entrance or exit gate on a farm, estate, livery yard or a private house by harnessing the power of the sun.
The award-winning, market-leading automatic solar powered gate products are manufactured specifically for use in the UK.  In many rural situations, keeping a gate closed is not practically possible; either due to a lack of an electricity supply or the sheer daily complications of manually opening and closing a busy gate. The solar-powered system from Solar Gate Systems is suitable for remote installation where mains electricity isn't available or would be too costly to install or to save on having to lay cables under existing driveways.
Does it really work in rainy old Britain?
Yes, but good planning is vital.   Solar panels use crystalline photovoltaic cells which simply require day light to produce electricity, so even on a cloudy winter's day, the solar panels still provide charge.
Solar Gate Systems set their solar panels at 23 degrees to the vertical to maximise the winter harvest.  Panels also face solar south,  which can be very different to magnetic south and are combined with a 24volt DC system, proven to be up to 50% more efficient than the usual 12volt DC system.
Solar power - keeping you charged up on the move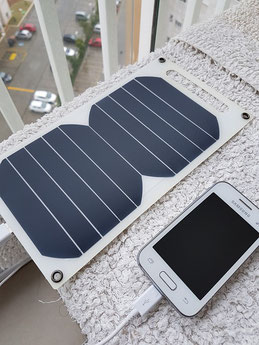 With an ever-increasing variety of mobile devices using rechargeable battery power there is often a need for mobile solar charging when you are on the move.  If you are walking across the Yorkshire Moors using GPS on your mobile phone the last thing you want is to run out of battery power.
The Extreme Solar is one of many charging devices.  This lightweight, clamshell solar panel, offers a 5 watt, 5V 1A output - perfect for charging smaller devices such as smartphones, GPS systems and handheld action cameras on the move.  The panel opens to a 210 degree angle, making it easy to attach to back packs, tents or bike panniers whilst allowing optimum power from the sun.
The Extreme Solar features useful 2-colour LED indicator; when the LED shows red, solar charging is at a minimum, when the LED shows green in colour, solar charging is at an optimum level.  Housed in a rugged, water-resistant casing, the extreme solar includes MPPT technology which means the panel will still deliver power even in low light conditions - offering users reliable solar charging from a compact unit.
Solar  - lighting the night or not!
Solar lighting has come a long way and as photovoltaic technology improves so the prices for the technology are coming down.  Longer-lasting solar technology is becoming more and more apparent - from your back garden to street lighting, the uses for solar power to light up our lives are growing year on year.
All solar lights come with either an external or integrated solar panel.  This panel has a photovoltaic cell inside and this converts sunlight into an electrical current.  The size and quality of the solar cell will influence how effective the solar panel actually is. 
What happens when there is no sunlight?
Due to the advancements in solar technology, they will normally continue to work all year round, even on dull and rainy days.  The performance will not match that during the summer months though, especially when it comes to the lower price bracket of solar garden lights.  The obvious time to enjoy them is through the summer months, when due to the longer daylight hours but even on a dull day you should still receive a significant amount of charge from them.
Once the solar cell has converted the sunlight into an electrical current, the re-chargeable battery will store this electricity.  With solar lights, NiMH batteries are normally used, as they stand up better to daily charging and have a significant environmental benefit, as they can be disposed of without harm to the environment.  This is opposed to the standard NiCAD batteries used in regular electrical goods.
---
Further information on products mentioned here can be found at: