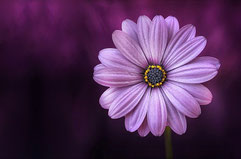 Love it or hate it, purple is going to be appearing alot in 2018. 
Somewhat controversially, PANTONE declared 18-3838 Ultra Violet as it's colour of the year 2018 which has signalled its comeback.  In describing the nature of Ultra Violet Pantone say "Complex and contemplative, Ultra Violet suggests the mysteries of the cosmos, the intrigue of what lies ahead, and the discoveries beyond where we are now.  The vast and limitless night sky is symbolic of what is possible and continues to inspire the desire to pursue a world beyond our own."
It may not be your first choice to decorate a whole room, but used wisely you can inject a shot of this regal shade into your home without it taking over!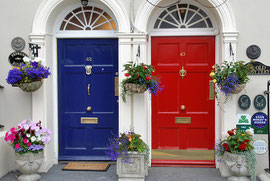 What colour door!
The entrance to your home is the first thing that visitors see and it's also the chance to make a great first impression. 
If your front door is looking rather tired, a simple fix with a coat of purple paint will complement brass door furniture adding a pop of welcoming colour that will really improve the kerb-side appeal of your home.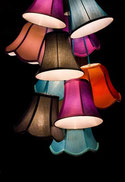 Purple has often been associated to royalty because it was one of the most difficult colours to produce with natural dyes. 
A vibrant purple silk shade lined in gold is  a majestic look that gives a room a feeling of  warmth, elegance and luxury.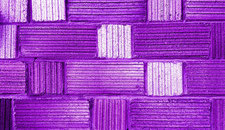 Not many people move away from the staple colours of white, red, green, blue and brown when it comes to kitchen tiles but the more adventurous might like to plump for purple!
The mix of purple contrasting with neutral tones works well in this kitchen and brings out the natural tones of the wood surfaces.
Rich purple is a good choice for the bedroom as it can be very relaxing and tends to absorb light.   Purple looks beautiful and elegant when combined with grey so consider these two colours when decorating the bedroom.  Mirrored furniture is also very on-trend and would add further richness to a scheme.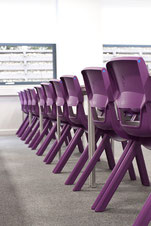 Even the humble chair has been given the purple upgrade.